The Former Go-To Authority for Rabbit Color Genetics Information
Glenna M. Huffmon, from the state of Michigan, wrote a number of books on rabbit coat color genetics that were widely read and respected.  "Rabbit Coat Color Genetics" and "Coat Color Genetics of the Netherland Dwarf" were the go-to authorities for a number of years  and many rabbit breeders relied on her knowledge.   In fact, it's quite possible that color genetics would not be used and understood by nearly as many rabbit breeders if not for her resources.
Glenna passed away a few years ago, and as all her books were self-published, they are no longer in print and no longer for sale, except perhaps the few that a dealer may have lying around.  Most, if not all, cage suppliers have sold out of their stock.
BunnyRabbit.com quickly sold out of their remaining copies of Glenna's rabbit coat color genetics guide.   Realizing the demand for a resource on this very important topic, the owners of BunnyRabbit.com asked me if I would consider working on such a project.
It took a little planning, a lot of learning, and some tricky computer work, but I did my best to bring you accurate information you can practically apply to your rabbit breeding program.
A Book About Bunny Colors: The Practical Breeder's Guide to Rabbit Coat Color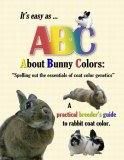 I tackled this project from a breeder's perspective.  Emphasis is placed on the "what happens" with coat color genetics, not all the scientific why's and how's.   I used a lot of charts and photos to help you grasp the information, and we spell out how to apply it in your breeding.   I stress using common sense to understand how to use genetics.  A list of features and some sample pages are offered below.
Quotes from readers:
"I received the book (about a week ago already) and have read it front to back a couple times already! Fab book, very simple and easy to understand! And you were right in that even though I knew a lot of the things, it has definitely rounded things out, and good to have in one place! I especially like the section about breeding colors and show groups vs genetics groups.
Thanks again,
Michelle of Forrest Gait Rabbitry"
"Your book is the best in genetics for rabbits…..very good work…congratulations!!!"
-Manuel S.
To be honest, I've never read Glenna's books. I certainly don't say that "About Bunny Colors" can measure up. Information in my book is based on what I have learned elsewhere through reading, interviewing authorities, and practical experience breeding rabbits.  I put my own spin on this book, broke it down in the way it made sense to me, and learned a whole lot in the process.   I hope that the hundreds of copies of my book that have sold since its release in 2009 proves that people like what they see.  Feel free to email me if you have any questions.

[show_wp_shopping_cart]
Table of Contents:
Page 3… Introduction
Page 4… Chapter 1. "A practical understanding of the mechanics of genetics."
Page 5… What is a genotype?
Page 6… Breeding Squares
Page 9… The four basic colors
Page 12… Dominancy to the next level
Page 14… But what are my chances?
16. Chapter 2. "Genotypes of familiar varieties."
Page 17… Spelling out the color gene sets
Page 18… B-series (black/brown)
D-series (dense/dilute)
A-series (pattern)
Page 20… C-series
Page 22… E-series (extension of dark pigment)
Page 23… Decoding a genotype
Page 24… How light and dark pigments are arranged
Page 26…. Coat color genotypes list
Page 28… Single-variety breed genotypes
Page 29-30…. Coat color photos
Page 31. Chapter 3. "When Cocoa and Sprinkles make a date" or "Practically applying genetic knowledge in your breeding."
Page 32… Rules of breeding pairs
Page 34… Linebreeding
Page 35… When I breed Cocoa and Sprinkles, what color will the babies be?
Page 36… Genotyping rabbits
Page 39… Identifying the Junior Oddball
Page 44… Chapter 4. Your color breeding program
Show groups vs. Genetic Groups
Page 45… Raising Agoutis
Page 46… Raising Tri-coloreds. Raising Pointed Whites
Page 47… Raising Selfs
Page 48… Raising Shadeds
Page 49… Raising Tan Patterns. Raising Steels.
Page 50… Raising Silvers. Raising Wide Band colors.
Page 51… Chapter 5. Explaining the secondary color gene sets.
Page 51… The broken pattern gene (En)
Page 53… The Vienna (BEW) Gene (V)
Page 54… The Dutch gene (Du). The Silver Gene (Si)
Page 55… The wide band gene (W).
Page 56… Rabbit fur genes. The dwarfing gene.
Page 58… Coat color glossary
Page 59… Appendix A: Descriptions and genotypes of familiar varieties
Page 63… Appendix B: Alternate names of varieties
Appendix C: Sources for obtaining more information
Page 64… Acknowledgement
Check out our other titles: