ARBA Convention 2011 Results and Pictures – Indianapolis
Last Updated on October 28, 2012 by The Rabbit Smarties Team
Final 2011 Results are now available on the ARBA website: http://arba.net/news.htm#convention
———————-
If you didn't get to "Race to Indy" this year, you are probably eagerly searching for results and pictures from the 2011 ARBA national show that's going on right now in Indianapolis.  As I learn of more results I will update this page, but for now, here's what I've gathered and here are some links to sites with pictures!
*Last update 11/7  11:30pm*  Keep checking back!!!  More results are coming in.    If you hear of any BOB/BOS results that I don't have listed please let me know.  I have been updating this page every day.  These are not guaranteed to be official results, but the news that is being passed around.
ARBA CONVENTION VIDEO!
Check this out — also from Kristina.  ARBA convention video

Convention Pictures!!!
Kristina Ruth of Fuzzy Patch has pictures up on her facebook page.   Julie re-posted the pictures of the presentation animals that are trying to be accepted as new breeds and varieties.  Tim of Tru Luv Rabbitry has some neat shots also.  You can get some good pictures on the NCAG blog. Whitney put up a lot of good pictures of the Rhinelander judging.  And here's a flickr album with some photos … caution, there's a bit of swearing in the captions.
We're so grateful to you for the updates!!!!
New Breed/Variety Presentation Results
Blue Rhinelanders, Silver Marten Mini Rex, and Blue Tortoise Netherland Dwarfs passed their third showing and will be fully accepted varieties as of February 1, 2012!
Click for a larger image.  Photo courtesy of Kristina.  Thanks!!!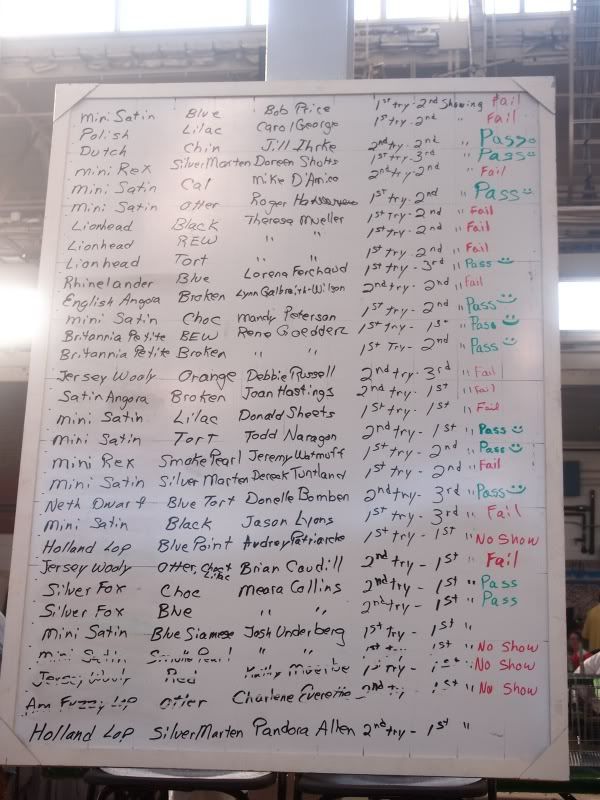 Best in Show Winners
BIS Live Tweeting!  A gentleman was live tweeting during the BIS ceremonies and you can read the recap here: http://twitter.com/#!/search?q=%23arba2011 Or if the link doesn't work, search #arba2011   Scroll to the bottom of this page for his few-paragraph summary.
OPEN
BIS – New Zealand by Bob Crawford, NC
Group 1 winner: New Zealand.
Group 2 winner: Netherland Dwarf.
Group 3winner: Britannia Petite.  – Renee Goedderz
Group 4 winner: Mini Lop.
YOUTH
Youth BIS – Holland Lop by Riley and Reagan Crews of Florida.  Story is that this Holland Lop is 5 years old!  It was bred by
Narrow Gate Farm
and lives a pet life, running around the house!
Group 1 winner: Mini Rex
Group 2 winner: Satin
Group 3winner: Holland Lop
Group 4 winner: Mini Lop.
Open Results
Netherland Dwarf –
BOB –  Allen Mesick and Randy Shumaker with an otter junior buck – ALSO WON BEST OF GROUP (as in a runner-up for BIS.  Pictures HERE)
BOS – Rita Stelzer and Ruby Rezak with a Chestnut Jr doe
BOSV Chocolate (Jr. Buck)- Leslie Hobbs
Chocolate Sr. Doe- Vicki Weisgerber
BOV Opal (Sr. Buck)- Nikki Seehafer
BOV Fawn (Senior Buck)- Amanda O'Gorman
Chin Jr. Doe- Leslie Hobbs
BOG Shaded (Siamese SableSr. Buck)- Mark Jacobs
BOSG Shaded (Sable Point Jr. Doe)- Nikki Seehafer
BOV Sable Point- Mark Jacobs
BOSV Smoke Pearl: SanDee Northam
Sable Point Sr. Doe- Mark Jacobs
Smoke Pearl Sr. Doe- SanDee Northam
Smoke Pearl Jr. Doe- SanDee Northam
REW Jr. Buck- Cheryl Oney
Himi Sr. Doe- Farrah Stewart
Mini Rex
BOB – Richard/Hilda Lowing
Polish
BOB – Black buck by Pat Glenn of Indiana.  Pictured right.
BOS – Jeannie Webb
BOV and BOSV Broken – Tiffany McCord
American Sable
BOS – Myron Dinsdale
Britannia Petitie
BOB – Renee Goedderz
Champagne D'Argent
BOS Jerrold Fisher
Dutch
BOB Briony Barnes
Dwarf Hotot:
BOB Sr. Buck – Bill Whaley
BOS Jr. Doe – Sharon Toon
English Angora-
BOB and BOS by Marcus Rhoden
You can get more angora results and pictures from the NCAG blog.
English Lop
BOB – Dave and Trina Carlson
BOS – Larry Nash from Ohio.   He only brought  one rabbit to convention!      (Thanks Russ for the report!)
French Lop
BOB – Tammy Shaw – Solid Sr Buck
BOS – Lynn and Patrick Eden – Broken 6-8 Doe – Bred by Steph Anderson
Flemish Giant
BOB – Fred Russell, Light Gray doe
BOS – Dan Brink, Fawn buck   More Pictures on this flickr album
Havana
BOB – Brad and Katie Boyce
BOS – Sarah Carden
Himalayan-
BOB – Laurie Adams
Jersey Wooly
BOB (Tan Sr. Buck)- Brian Caudill
BOSB (Chestnut Sr. Doe)- Brian Caudill
BOG Self- Brian Caudill
BOSG Self- Kristen Drum
BOG Shaded – Amber Henderson
Holland Lop
BOB (SSB)- Blackburn/Taylor
BOS (SSD)- Jenny Poprawski
BJD/BOSV- Judy Macheyne
Harlequin
BOS – Gatewood Farms
Mini Satin
BOB – Scott Rudolph
New Zealand
BOB – Bob Crawford with a white. Also won BIS!
BOS – Benker Family with a Broken black
Palomino
BOB – Rabbit's name:  Pellham's Needs No Introduction (aka 'Dorothy'), senior, golden, GC doe with 2 RIS.
Owners: Patty Montag and sister, Kellie Jo Williams of Oklahoma.
Rhinelander
BOB;  jr. doe, Evylen Halsey
BOS ; jr buck, Evie Cunningham.
You can see photos of the judging on the Imagination Acres Blog!
Standard Chinchilla
BOB – Donna Abel, MN
Tan
BOB- Laural Sohns
Thrianta
BOB- Krystal Willhite with Sr. Doe
BOS-Daniel Long with Sr. Buck
Complete results at the ATRBA website
Youth Results
Dwarf Hotot
BOB Sr. Doe – Ashleigh Budrick
BOS Sr. Buck – Sarah Mugge
English Lop Youth
BOB- Melody Miller, Solid Sr Buck.  Same buck that won last year
BOS- Zach Sauer, Broken Doe.
French Lop
BOB  – Ciera Allen  from MI – Solid 6-8 doe
BOS – VanWienen girls from IN – Solid Jr Buck
Jersey Wooly – BOB and BOS by Nicole Boulier.  The Jersey Wooly club did a live video broadcast of the BOB judging and you can watch the replay at www.ustream.tv by searching for the channel tllrabbits."
BOSG Agouti- Jessica & Taylor Usokowski
BOG Tan- Jessica & Taylor Usokowski
Agouti Jr. Buck- Eric Lorensten Chin
Self Jr. Buck- Eric Lorensten REW
Self Jr. Doe- Eric Lorensten REW
BOG Self- Eric Lorensten REW
Shaded Jr. Buck- Melani Fletcher
Holland Lop
BOB (SSB)- Tonya Crews of Florida.  Also won BIS! Note: I saw owner's name listed elsewhere as Riley and Reagan Crews.
BOS (BSD)- Briana Hall
Netherland Dwarf-
BOB – Black Jr Buck – Cole Simons
BOSB – Black Doe – Lindsey Gilbert
New Zealand
BOB – Blake & Brock Hadley with a Black Jr. Doe
Polish
BOB – Jessica Cotter
BOS – Ryland Sypnieski
Silver
BOB – Collin Starkey
BOS – Collin Starkey
Thrianta
BOB- Brontee Anderson with Sr. Buck
BOS-Amanda Grove with Sr., Doe
Complete results at the ATRBA website
BIS Recap by "The original turtle"
I actually live-tweeted the Best In Show judging on Monday… the best youth rabbit was a broken tort Holland Lop bred by a girl in Florida who was not actually present for the award, and the best open rabbit was a spectacular New Zealand. I also live-tweeted the youth and open group selections (four of each) and which judges did the picks.
The way they did it was, they broke the showroom into four "lanes" according to distribution of wabbits from Minneapolis. Breeds were broken into four groups (as well as youth and open) according to these distributions. At the BIS spectacular, which was in an adjoining hockey rink where the Indiana Ice play in the CHL (they actually had a game Saturday), each cluster of breeds got a youth and an open judge — both groups had the same breeds in youth and open regardless of the actual number of wabbits — and they picked their choice from that "lane."
That meant that for the final BIS, there were four wabbits in open and four in youth. There was no 1st or 2nd reserve. Various sponsors contributed money and trophies for the lane winners and the youth and open picks. There were also various sponsored trophies and cash awards for youth and open BOBs.
If you go on Twitter and search for the #arba2011 hashtag that I used, you can probably go back and view my play-by-play, I didn't miss any of the eight winners. I didn't necessarily get names of the breeders, and I may not have spelled the judge names right if I don't know them myself, but all that stuff will be in the ARBA convention book and the official results.
I only breed Flemish, and I did not show any wabbits here this year. I came out to be with the club and to buy rabbits… I got an amazing junior sandy buck who is actually sitting on the hotel bed here in Ohio watching me type this!
There was no way I could run around and get pictures of everything and everybody, so I picked and chose. As far as exhibition and presentation breeds and varieties, once again, the lionheads failed. However, Netherland dwarf blue tort was accepted!