I got my first bunny on March 25, 2002.    He was Bumper: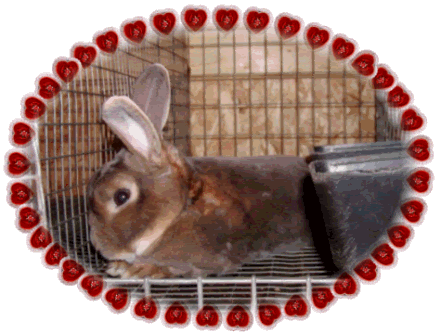 Just so everyone knows, I did not pick the name Bumper because it sounded like Thumper.  I picked the name before I even met him, and I didn't know he'd be gray like Thumper.   I wanted a frisky bunny, one that was always jumping and playing and bumping into things.   I think that was the idea behind "bumper."
Originally, I didn't want a rabbit.  I didn't want anything to do with a rabbit. I had asked for a horse, and a rabbit is not a horse.   Fall of 2001, my Mommy decided that a rabbit was both more economical and practical, and told me to "think rabbit" all winter because we would get one in the spring.
I told her to go away.
At Christmas that year, I got one "early" present:  "Your Rabbit," a book by Nancy Searle.   All I remember was disappointment.  My mom claims I asked her, "what am I supposed to do with this?"   (Of course, a few months later the book was well worn and highlighted.  Almost six years later I had the opportunity to meet Nancy in person, and she bought a couple of my rabbit books.  That was cool!)
Then came Christmas with the extended family.  There are nine cousins, and we used to do a gift exchange, so the parents didn't have to buy presents for all nine.   One aunt in particular was known for giving a large batch of presents to whichever cousin her son drew in the exchange.   Everybody liked to get gifts from Aunt Sally.  That year,  Aunt Sally had me.  And I got… a boatload of rabbit stuff.   What a letdown.  She gave me these bags of rabbit food.  They smelled like alfalfa — and to me, that was awful.  They stank up the car on the way home.  They sat in the basement and stank all winter.  I couldn't believe how bad they smelled.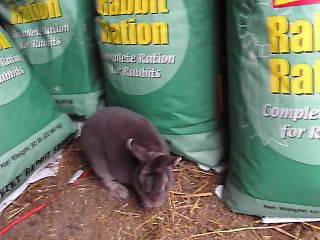 So spring comes, and a rabbit starts to sound a little more interesting.   We visited a few local shows.  I wanted a Mini Lop, but my brother wanted a Mini Rex.  I'm glad we went his way.
In mid-March 2002 we visited the home of a well-established Mini Rex breeder here in Michigan.  We came to the house, and she sent her daughter out on her bicycle to the barn, which apparently was some distance away through the woods.   Eventually the girl reappeared, with a rabbit carrier swinging from her bike handle, and a bunny in it.   We were a little concerned at this mode of transit, for the rabbit's sake, but we needn't have worried.  That rabbit was FEARLESS.  We took it home.
But it wasn't Bumper.   That one, a castor Mini Rex, became my brother's rabbit.  To find me one, we went to the home of a girl who was aging out of 4-H and selling her Mini Rex.  She was really nice and helpful, and showed us around her barn and helped us with some rabbit care tips.  She pointed out several bunnies for sale, but one caught my fancy.  According to her, he was an adult but still young, had pretty good show type, and was more playful than most of them.  My Bumpey.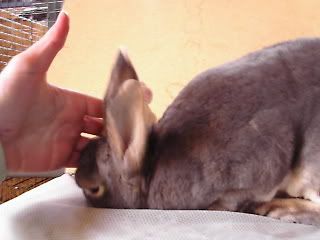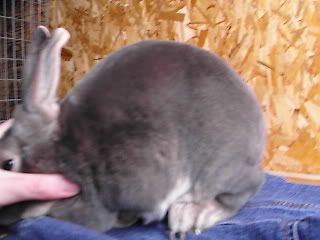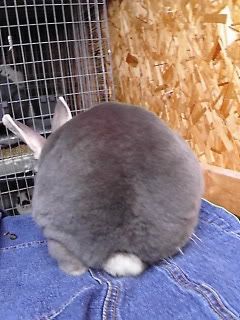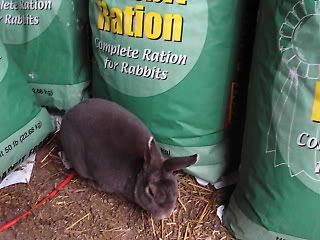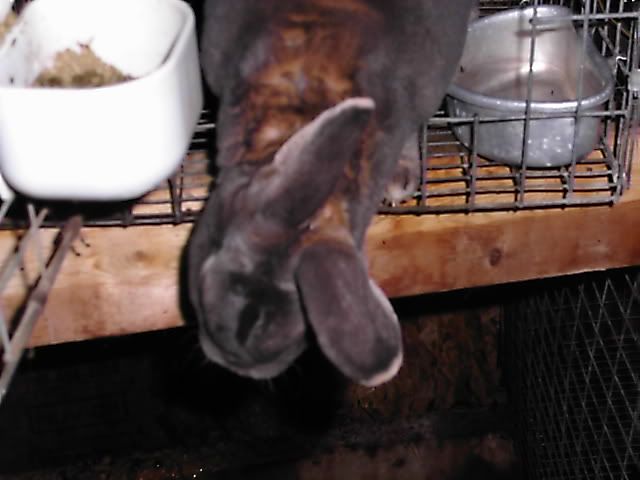 He never did much in the breed classes, but was my showmanship bun for a time.  He retired early though, and was my little buddy.   Occasionally I would take him to a 4H meeting, but that seemed to make him nervous.  He would snuggle up to me and lick my hands and face.  He didn't do that at home so much, just while we were in "scary public places."
I didn't get into breeding (purebred) Mini Rex, so never used him (*cough* much) as a herdsire.  But I sure loved him.  I've often wondered, if I could have only one rabbit, of any I've ever owned, which one would it be?  Only one other bunny, Baxter, ever came close to Bump.  I think I'd take them both.
Looking over some of my own writings recently, I came across this note from April 4, 2006.  Pardon the spelling:
Bumper disapeared on April 1st, 2006. I'm not sure he's dead, but it's likley I'll not see him again. I don't know how it happened. I was letting him run around the yard the day before like I always do, and I distinctly remember putting him back in his cage that day. I remeber because it had been raining and he was muddy. The next day his cage door was open, his feed uneaten, and he was gone.
There was no possible way he could have gotten out of the barn, I checked the inside and the outside: there were no holes. But wherever he is, I think I've lost my Bummy.
He never showed up again.
Bumper would be 11 years old today, as old as I was when we met.   Happy birthday, little guy!  I love you still!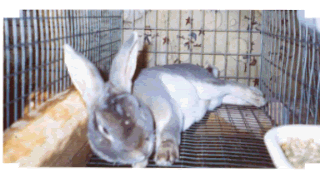 Related Posts via Categories