Announcement! If you are a youth member studying for the 2013 ARBA Convention, we are having an online group quiz/study night on every Sunday evening leading up to Convention. Dates are Sept 22, Oct 5, and Oct 13. Anyone is welcome. The place is https://rabbitsmarties.com/quizroom.html. Contact me if you have any questions.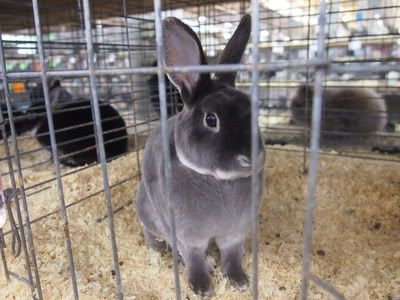 Happy February!  That means  that this year's updates to the ARBA Show Rules and Standard of Perfection are now in effect. (As of Feb. 1).  If you're planning to compete in 4-H rabbit showmanship, royalty, breed identification, quiz bowls and so forth this year, you will want to know this stuff.
As you may be aware, five new varieties of rabbits and cavies were recognized by the ARBA at the convention last fall, and as of this month can now be shown in regular competition.  If you've purchased the Youth Rabbit Project Study Guide in the past year, you will want to make note of this in the appropriate places.   The most notable change is in the Rhinelander breed, which now recognizes blue/fawn spotted bunnies as well as black/orange.  The original black/orange color, which to this point was known as "standard,"  is now called "black" as the REGISTRATION variety.  The new variety is called "blue" as the registration variety.  However, both colors are shown together as "Standard" — so the showroom classification is still "Standard.  Here's a quick chart:
2012 New ARBA-Recognized Varieties of Rabbits and Cavies
Breed

New Variety

Showroom Classification

Registration Name

American Cavy
Martenin colors black, blue, beige, chocolate, and lilac
Tan Pattern
Marten
American Cavy
Gold
Any Other Self*NOT shown separately, but in the Any Other Self Group
Gold
Mini Rex
Silver Martenin colors black, blue, chocolate, lilac
Silver Marten
Black Silver MartenBlue Silver MartenChocolate Silver Marten

Lilac Silver Marten

Netherland Dwarf
Blue Torotiseshell*note that it's tortoiseshell
Tortoiseshell*shown with the regular torts as tortoiseshell.  NOT shown as shaded group.
Blue Tortoiseshell
Rhinelander
Blue
Standard
Blue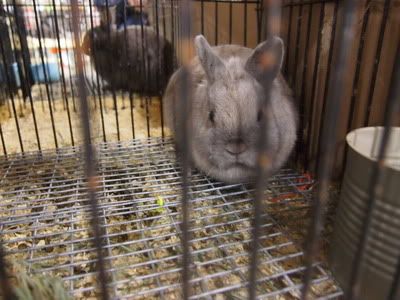 You can download the Standard of Perfection for these colors from the ARBA website,and I highly recommend you do so if you're studying for Breed ID, royalty, showmanship, or a judges/registrar's exam.
You'll also want to download the ARBA show rules and read them.  As you may have heard, there have been some recent changes that are listed on the ARBA announcements page.  As this stuff is "news," it will likely be in royalty exams this year.  The most recent change now allows Legs of Grand Championship for Reserve in Show, Best 4-class, and Best 6-class wins when they are awarded.   All shows are required to pick BIS.  All shows are NOT required to pick Reserve in Show, Best 4-class, or Best 6-class.  However, when shows choose to offer these awards, the ARBA now allows it a leg.
If you haven't seen them yet, check out the corrections to the first printing of the 2011-2015 ARBA Standard of Perfection.
Details, Details!
Rabbit 4-H Showmanship Guide, Breed ID and Judging Contest Tips and More
If you haven't seen the Youth Rabbit Project Study Guide yet, I welcome you to take a peek at the sample pages below!  This book is based on my experiences as a 4-H'er and ARBA Royalty participant. When I was in 4-H it took me a very long time to learn how to successfully raise rabbits and compete in contests such as showmanship, breed identification, and team judging.  When I did get to successfully competing on the national level, it just came naturally to produce materials to guide other kids there.
For more information, check out the Study Guide's Own Page. Here are a few sample pages for you to look at:
Additional Book Features in the New Edition
Guide to choosing your course in the project
Judging contest tips from an ARBA judge
Expanded Breed ID Guide
Additional leader's tips
Polish Breed Judging Handout
Rabbit Royalty Practice Questions
Updated to reflect 2012 Standard of Perfection
Still reproducible within your 4-H club.
Related Posts via Categories