May 29, 2011
Updated 2/2012 with more samples:
Rabbitry Banner and Business Card Designs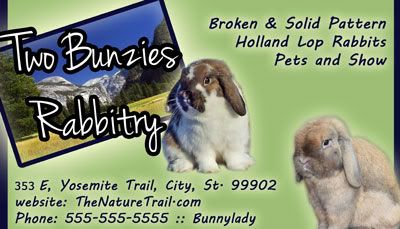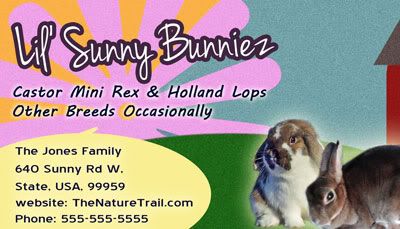 Facebook Page Customization – Dog Kennel Used as Sample

Logo – Made for a friend.
I've been privileged to help a few animal breeders design or improve their websites lately, and I thought I'd include some samples for all to see!


This is a banner I did for a young lady. It's animated! If you didn't get a chance to see the animation, hit "refresh" on your browser. It only plays once.
Meadowbrook Rabbitry is owned by Evelyn in Colorado.  She raises Holland and Fuzzy lop rabbits and seems to take pride in her bunnies and very good care of them.  Check out her new website!  Evelyn says: "Thank you so much, I have been getting calls.  this is great my friends love the new website"
This is a business card we did for a breeder — but changed their name on the sample!
GO BLUE!!! University of Michigan Football.
Mccabe's Rabbitry is owned by judge Adam Mccabe, breeder of Mini Rex and Polish Rabbits in Wisconsin. We helped him redesign and optimize his website for search engines.  His comment: "After all the help u have done on the website i got 12 phone calls from it already!   It was WORTH the money i sent you!" Thanks for the job, Adam!
Karen is a Silver Rabbit Breeder in New York State.  I had a lot of fun working on her site, and kinda like how it turned out.  Karen says:
"I thought the process of building the site went amazingly well! As a complete novice in the world of computers I had no idea what to suggest or ask or recommend, and didn't have a clue how we would figure it out between us from so far apart! Thanks to you asking the simple questions you asked to get us going and jumping in and creating a banner out of your own ideas to show me really helped to get me started…"
This is the business card that our partners use to sell our books.
When we're helping you out with a design, we'll go back to the drawing board several times to make sure you're happy.  Here are a few designs that out customers did not end up using, but are now available for sale.  [rabbitry names were changed to imaginary ones]
okay, I'm gonna admit — this one's not my thing.
The stripes color can be easily changed on this design.
What would you like your new website to look like?  We're here to help!